ABOUT
DanzaMedicina comes as a Sacred Healing Journey towards the Wild Feminine Essence - a metaphor for the dance of life in the form of movement. It's the embodiment of timeless, instinctive and intuitive wisdom into this never-ending, cyclic spiral of growth and decay, building up and letting go, energy out and energy in; life, death and rebirth.
DanzaMedicina gently takes you by the hands and pares off your layers. It moves together with your emotions, feelings, memories, thoughts, belief systems and patterns, inviting you to dive into the depths of yourself. This is an invitation for you to dance with the different facets of your being, reawakening aspects of your womanhood that had been lost, rejected, neglected, wounded or forgotten throughout your life journey. DanzaMedicina helps you gather the fragmented parts of your soul, bringing forth a new sense of wholeness, fulfilment and authenticity, and opening a sacred space to honor your sacredness.
Take off your shoes, loosen up your clothes, untie your hair, take off your masks, face your deepest fears, embrace your shadows and let go of any victimization or justification. Remember the power, the wisdom and the beauty that lay dormant within your womb.
Feel yourself flooded with the fertility of your Body, Mind and Spirit, while creating your own reality, giving birth to your deepest purpose, and welcoming the best version of yourself!
Morena Cardoso - "I'm here to serve, as I believe every woman has the potential to be the master of her own destiny, and to create her own reality based on her soul's deepest dreams and intentions. This is what I work for – to overcome our fears, free ourselves from our masks, and recover our space with authenticity and wisdom. I work to help women share their gifts, and relearn to dance, pray, create, enjoy themselves, give birth, love, howl, and sing, even after being silenced so many times. I work to help them connect with their power, their life power, their intuition, and their inner glow, helping them remember their ancestry as visionaries, healers, and priestesses that they are. May our Grandmother Moon and Pachamama bless all our relations. Aha Metakiase!" To know more about Morena Cardoso click here

"To take part in this meeting, I invite woman that I trust, appreciate, and know that, together with DanzaMedicina and I, can enhance the weaving of a complete, profound and unique work! Now, I present to you, with great gratitude and affection, the abuela Pedra Rosa":
Urkupimi Pedra Rosa has been working in sensitivity and visualization of the energy field for more than 20 years. She is the leader of Dance of the Sun and a medicine woman in the traditional Sacred Fire of Itzachilatlan in Brazil. She was initiated into the Sangoma Thokosa (shamans) tradition of the Zulu People of South Africa and recognized as Cunhã Karaí (Sister of Healing) by the Mbya M'Biguaçu Village. She was also initiated into Sufism and is the idealizer of the International Consciousness Method. Pedra Rosa will share with us some of her Temazcal medicine.
Scheilla SSol is a plastic artist, performer, dancer and professor of popular and Afro-Brazilian dances. Scheilla is a multi-artist whose research on collective and individual identities led her to propose an encounter between plastic arts and body movement, encouraging the construction of images that are an invitation to reconnect with our multidimensional consciousness and elicit the ancestral voices our bodies contain. The dance proposed is an invitation to decolonize our bodies, expanding our perception to other ways of doing things and seeing ourselves - based on each individual's genuine motivations - and constructing drawings with our bodies and drums.
Scheilla has a bachelor's degree in plastic arts from the Guignard School of Art and is a dancer of Guarda de Moçambique and Congo Treze de Maio Nossa Senhora do Rosário, having researched the Afro-Brazilian culture and its quilombos and terreiros (shrines) for over 15 years. Her wide experience among professors, artists, masters of the Brazilian Popular Culture, babalorixás, yalorixás, and alabês, has guided her in her life journey, her artistic works and her role as a facilitator of creativity in others. Those who don't know where they came from, don't know where they're going to.
our sacred danzamedicina temple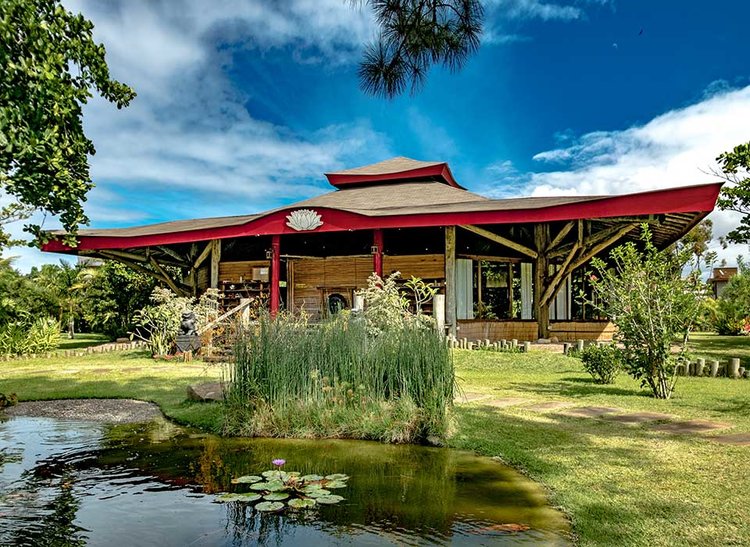 Sunny, blue skies, a river, the ocean, hammocks, bungalows, decks with ocean view, and veggie food inspired by local flavors and textures. A scenery that's going to inspire you to silence, share in sisterhood and dive into yourself, Daughter of the Earth!
The place chosen to welcome us is Mevlana Garden - Inn, SPA and Retreat, located in the city of Imbituba in the state of Santa Catarina, Brazil. A sacred spot that offers strong, abundant, wild nature (just like ourselves!). To learn more
Our retreat is going to start on 18 September, at 7 p.m. (Check-in from 4 p.m) and end on 22 September at 2 p.m ( checkout on Sunday by 4 p.m).
schedule:
07h Yoga of the Four Elements - optional
08h Breakfast
09h DanzaMedicina Practices/ Morning Session
13h Lunch
15h DanzaMedicina Practices/ Afternoon Session
19h Light Dinner
20h Final Meeting
Note: A third-party company provides shuttle services for DanzaMedicina. Shuttles are scheduled to leave Florianópolis Airport on 18 September at 1 p.m. and 3 p.m. and return from Mevlana Garden Inn on 22 September at 2 p.m. and 3 p.m. We recommend you to arrive at Florianópolis Airport by 2 p.m. and book your return flight for after 6:45 p.m. to prevent delays.
Day 01: OPENING CEREMONY
Opening Ceremony. Group Introduction.
DAY 02: I AM.
As Daughters of the Earth, women will be initiated into this journey from their base chakra towards the realization of the Self and a new sense of individuation, strengthening their roots, getting grounded in the now, and experiencing a new sense of security, confidence, consistency, and abundance. Women will have the opportunity to reconnect with the sacred essence of Mother Earth, enhancing their ability to walk on their own feet and manifest their ideas, dreams, and projects in this material world. A journey back home that will allow women to reconnect with their inner cycles, underworlds, and feminine instinct. An experience that will empower women's decision-making to encourage them to blossom and let go of any illusory limitations.
DAY 03: I FEEL.
In this experience, women will be guided into contact with their waters, awakening to the creative potential of their sacred womb, navigating through their feelings, releasing their repressed emotions, and getting in contact with their patterns of sexuality, pleasure, and relationship. An opportunity to experience a new sense of trust, empathy, transparency, surrender and fluidity in relationships and different aspects of life.
DAY 04: I DO.
A journey of empowerment through the fire element. Women will get in contact with their dormant personal power, enhancing their ability to act in the face of challenges, limitations, and fears. The medicine of fire will bring them strength and courage to walk towards their highest purposes while embodying the powers of the masculine within in the form of clarity, linearity, discipline, integrity, focus, and self-confidence - essential elements in the process of self-realization.
DAY 5: I LOVE.
Through the air element, women will remember different ways of praying and consciously raise their thoughts and vibration, reawakening their intuitive power and rediscovering their visionary power as women. Here, the air element will be the vehicle for healing, elevation and reconnection with the divine essence, while women learn the power of co-creating a new reality through free and ceremonial movement.
ENERGY EXCHANGE: 3,500.00 BRL
includes:
All inclusive nights at Mevlana Garden. Meals includes: Dinner on Wednesday; Breakfast, Lunch and Dinner from Thursday to Saturday; Breakfast and Lunch on Sunday. Tea break between the meals;
All activities of DanzaMedicina & Temazcal;
Paypal Fees.
*Enrolment fees do not include transportation costs. After registration, we will help with the organization of local transport for DanzaMedicina's attendees from Florianópolis Airport to the venue. The shuttle service is provided by a third-party company and costs around R$ 120* (round trip). *Prices may differ.
** For more information about children, companions, and/or single rooms availability, please contact connect@danzamedicina.net
PRIVATE SCHOLARSHIP PROGRAM (Sponsorship by Participants)
Single payment of R$ 3,750 (three thousand seven hundred and fifty Brazilian reais). This is a program for women who are vibrating in abundance, manifesting prosperity, and have social awareness. Part of this amount is going to be used to grant scholarships to allow indigenous, black, transgender, and disabled women, as well as women enrolled with CadÚnico (National Social Program), to participate in the retreat free of charge. We're grateful for your participation in this weaving. Together, we can make sure we have more voices and a greater multiplicity of discussions in our circle of sisterhood.
.:. FULLY BOOKED .:.
Waiting List:
Know more about our Term of Acceptance

We would like to hear from you! Do you have any doubts or anything to share? Please contact us at:
connect@danzamedicina.net